VIOLATED!
Valuable toy stolen from toy show exhibit
by Neil O'Ohlberg (
ElfOfDoom@worldnet.att.net
)
Staff Writer

WE DID NOT FORESEE THE POSSIBLIITY THAT SOMEONE MIGHT JUST STEAL THE WHOLE THING, CASE AND ALL...
Theft: it's an ugly crime, committed by ugly people to serve their even uglier purposes. But most of the items targeted by thieves are somewhat obvious and predictable -- money, gold, diamonds, the Mona Lisa (recently stolen from the Smithsonian Institution), cars, plutonium, and counterfeit leather pants. That's why some eyebrows were raised last week when a rather non-traditional item -- a horrible, demonic toy -- suddenly "vanished" from a regional toy show.
The toy in question, known as "Violator", is said to represent a hellish demon from the depths of the Netherlands. This particular toy is rumored to be worth upwards of $10,000, inasmuch as it is a "prototype," according to Chet Jacques, assistant prototype marketing director for the McFarmland Toy Company. McFarmland produces toys like "Violator" as part of their "Swan" line of "action figures" (a term used by toy collectors to distinguish these toys from "dolls," although there are no discernible differences between the two).
In a statement to police and the FBI, Jacques explained that the stolen toy had been placed in a hydroponically-sealed glass case prior to the opening of the toy show. The case had been constructed with a special locking mechanism that would sound an alarm if anyone tried to open it. "However," Jacques added, "we did not foresee the possibility that someone might just steal the whole thing, case and all" -- which is precisely what would seem to have occurred.
DIXON IS, IN FACT, A RABID COMMUNIST, AND MAY HAVE STOLEN THE FIGURE FOR "POLITICAL PURPOSES."
Suspicion thus far has centered on one Harrison P. Dixon, known to toy experts as a "bad traitor" and a "scalper." ("Scalper" is a derisive term, used in the toy collecting world to describe an individual who removes the heads from action figures in an attempt to lessen their marketability and value.)
Dixon is known to have been in the vicinity of the toy show at about the time "Violator" disappeared. There have also been reports that Dixon sold a "Harvey Quinn" action figure for $25.00 around the same time, far in excess of its retail price.
Police Chief D.K. McMahon has confirmed speculation that Dixon is, in fact, a rabid Communist, and may have stolen the figure for "political purposes."
By a strange coincidence, a nearly identical "Violator" figure [see photograph] has recently appeared at a Communist bowling alley in Dayton, Ohio (known to be a hotbed of Communism); Dixon is reportedly co-owner of the bowling alley.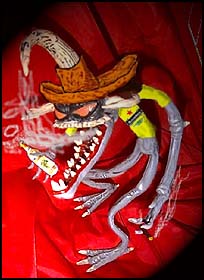 When asked about the sudden presence of the bowling alley "Violator," Dixon remarked, "I made it myself from an old G.I. Joe body and a 12-inch Poison Ivy head." He was, however, unable to explain the fact that the figure is being displayed in a case identical to the one that held the toy show "Violator."
In spite of the coincidences, Chief McMahon concedes that an arrest is unlikely: "The biggest problem is that Dixon's toy is holding a cigar that's approximately four millimeters shorter than the cigar that went with the toy show version.
Since it's not a real cigar, as far as we can tell, we can't assume it's been reduced by someone smoking it. So we have to conclude that these are two different figures."
Chet Jacques disagrees. "There's only one toy like this in the entire world, and Dixon's got it. He'll be sorry, though! Just wait until Todd finds out! Todd has enough money to have this guy inserted into the Great Wall of China....one piece at a time!" He then laughed menacingly and went out to get some Twinkies.
Ed Olomoff, the world's leading authority on action figures, notes that this figure is "the third most evil toy ever produced, behind only the Satanic Barbie (a limited production doll from 1973) and the original Candy Land board game."
The Violator graphic was created by:
MrChris@worldnet.att.net